Hello everyone!
It is with great pleasure that I announce the release of the clans on TotalWar.
From now on you can create a clan and invite 2 members.
The colors of your territories will be granted according to the decision of the clan leader. In addition, all members of a clan will earn 5% credits per number of players with a Prime account.
Go to the TotalWar map to manage your clan.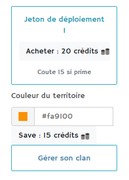 The Beta version is launched. Don't hesitate to give your feedback if you encounter a bug or if you have an idea for improvement